Angelo Spandrio, Director
Angelo Spandrio was born in Oxnard, CA and graduated from the University of California at Berkeley with a Bachelor of Science Degree in Mechanical Engineering. After graduation, he went to work for the Navy at Point Mugu as a Mechanical Engineer becoming Head of the Environmental Testing Laboratory there. He left civil service to become the West Coast Director of Technology Applications, Inc. an Engineering Consulting firm providing services to the Naval Fleet Weapons Engineering Directorate at Point Mugu. Angelo is now running his own business, AMS Audio Enterprises, Inc., a manufacturer and importer of consumer electronics products.

Angelo first moved to Ojai in 1970 and fell in love with it. Three years ago he became very concerned about the state of water security in the Ojai Valley. As a result, he started attending board meetings at the Casitas Municipal Water District and the Ojai Basin Groundwater Management Agency, and also read and gathered all of the background material and data he could get his hands on. He started presenting these facts to various groups around Ojai and anyone else who was interested. He has advised various community/water agency members around Ventura County who are both in and out of public service offices. He was the major driving force in getting the first ever bathymetric survey done of Lake Casitas. Angelo was elected to the Casitas Municipal Water District Board of Directors in 2018.
Casitas MWD Map with Major Highlights and Boundaries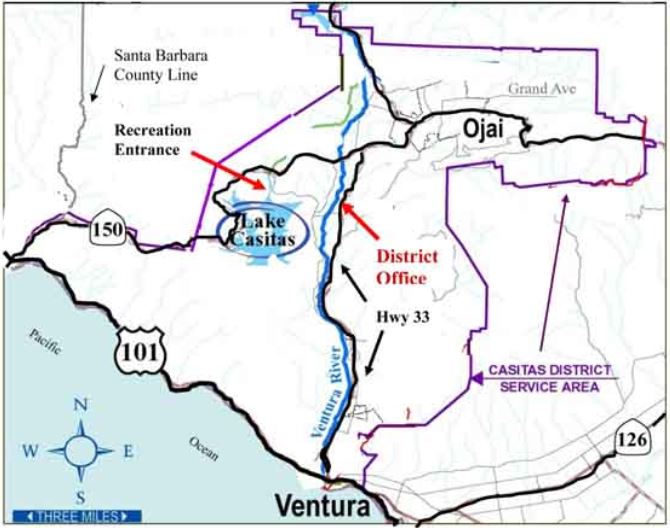 The Casitas Municipal Water District is governed by an elected five-member Board of Directors, each representing a geographic division of the District. Board meetings are held on the second and fourth Wednesdays of each month at 3:00 p.m. in the Board Room of the Casitas main office, located at 1055 North Ventura Avenue, Oak View, California. Occasionally, meeting dates are changed to accommodate other commitments. Members of the public are welcome to attend. Meeting agendas are posted on this website and at the Casitas main office at least seventy-two (72) hours preceding each meeting.
Board member elections are held in November of even numbered years. Board members serve four year terms that are staggered so that every two years elections are held for either Divisions 2, 3, and 5 or Divisions 1 and 4. Each Board member must be a resident of the division that he or she represents. The detail of each division boundary for each Board Member can be accessed through the map links that are posted on this website. Additional information for candidates interested in serving on the Casitas Board of Directors is available on the County of Ventura Elections Website. (https://recorder.countyofventura.org/elections/)
| | | | |
| --- | --- | --- | --- |
| Board Member | Division | Date of Original Election or Appointment | Ending Date of Term |
| Bill Hicks | Division 1 | November 1990 | December 2018 |
| Jim Word | Division 2 | May 1997 | December 2020 |
| Pete Kaiser | Division 3 | November 2002 | December 2020 |
| Mary Bergen | Division 4 | November 2010 | December 2018 |
| Russ Baggerly | Division 5 | November 2004 | December 2020 |