Coyote Point Disc Golf Course
Note: Coyote Point Disc Golf Course will be in use for the Coyote Classic Tournament and closed for public use September 29, 30 and October 1, 2017.
Coyote Point Disc Golf Course is a beautiful challenging course overlooking Lake Casitas. The professionally designed course is set in rugged terrain with concrete tee pads. The course is maintained by the Ventura Disc Golf Club and is home to the annual Coyote Classic Disc Golf Tournament each fall. There are plenty of tight shots and elevation changes so you will use every shot imaginable as well as a few different discs. Hiking type shoes are a must for this course and be sure to bring your canteen of water. Camping near the course is available. Reservations can be made through the Lake Reservation staff at (805)-649-1122. The course is free, but vehicle entry is $10/$20 for day use. Click here for Ventura Disc Golf's web site. http://venturadiscgolf.com/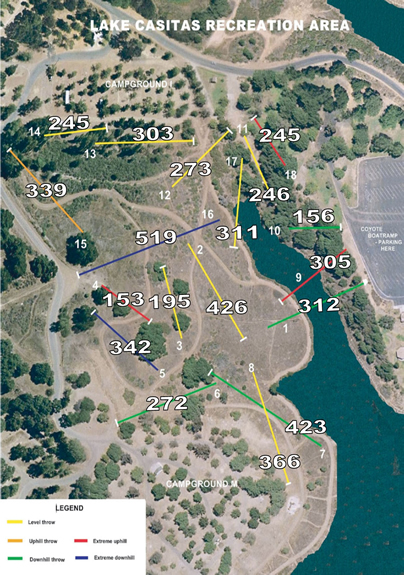 Coming for the day? Be sure to allow enough time to play.
The main gate to the Recreation Area opens and closes following the monthly calendar as follows:
Third Tuesday in January 6:30 am to 5:30 pm
Second Monday in February 6:00 am to 6:00 pm
Third Monday in March 5:30 am to 6:00 pm
First Sunday in April 6:00 am to 7:30 pm
Fourth Monday in April 5:30 am to 8:00 pm
Second Monday in August 6:00 am to 8:00 pm
Third Monday in September 6:30 am to 7:00 pm
First Monday in October 6:30 am to 6:30 pm
First Sunday in November 6:00 am to 5:00 pm
Second Monday in December 6:30 am to 5:00 pm