Latest News /

Casitas News Update: 3/25/19 Diversion Shutdown
Casitas News Update: 3/25/19 Diversion Shutdown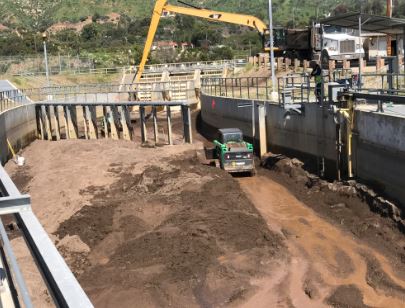 Water diversions at Robles Diversion and Fish Passage Facility have continued since 2/7/2019 until today, 3/25/19, when Casitas MWD had to call a critical shutdown due to overwhelming silt and debris loads at the screens.
The Robles Diversion Facility is located on the Ventura River, and is in place to divert water from the Ventura River, into the Diversion Canal, and ultimately to Lake Casitas. The facility also provides a means for endangered steelhead to move upstream and the screens at the site are in place to prevent the steelhead from entering into the canal and lake. Clogging of the metal mesh screens can be an issue even in normal rain years. However, the Thomas Fire has increased the silt, ash, and debris loads in the Ventura River and thus the Robles facility significantly this year.
When it is determined that the screens have reached a critical point in the amount of silt they have collected, a major effort goes into quickly draining the facility, clearing off and repairing the mesh screens, and restoring the facility to its full ability to operate. Crews have been keeping a close eye on the silt issue for the last few months. Diversion activities halted 3/25/2019, and are expected to resume Wednesday, 3/27/19.
Storm activity has added more than 33,000 Acre-feet of water to Lake Casitas so far this year.
Related Content
Stay in touch! Sign up for an RSS Feed of this page and receive updates daily via email.